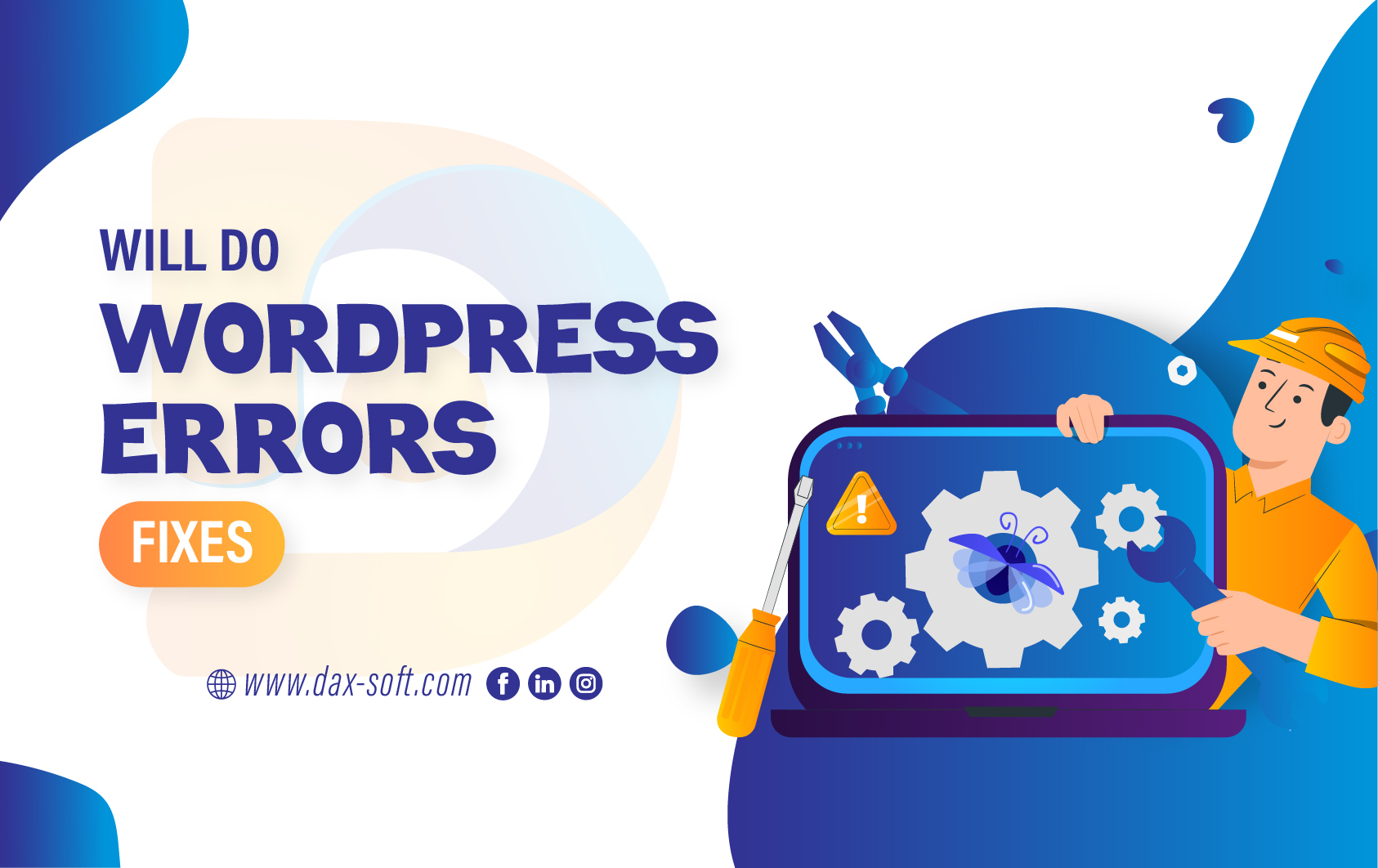 A small CSS issue
Changing of images
Font-size issue
Color change
DNS records
One small customization
Critical error
Fatal error
PHP Lines Issues
Update theme/plugins
Woo Commerce error
Woo Commerce Customization
Database Establishing Error
Contact Form Errors
403 - 404 error
403 Forbidden Error
Layout issues
Theme issue
Plugin error
Database Establishing error
Woo Commerce Premium Functionality
PHP Complex Error Fix
Theme/Plugins Customization
Contact form errors
400 - 502 error
Content Updating Issue
White/Empty Screen
Too Many Redirects
WordPress Customization
Anything Regarding WordPress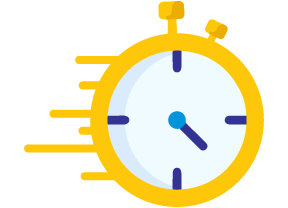 FAST RESPONSE
You just need to Leave a message via E-mail, Form and Live Chat 24/7. we'll reply you immediately.
EXPRESS DELIVERY
We always delivered what we comitted. We'll deliver always on comitted time.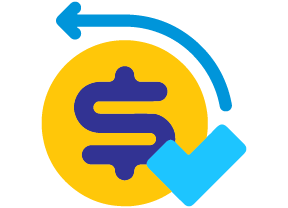 MONEY BACK GUARANTEE
We'll refund you 100%. So, don't worry at all because you are now at the safe hands..
How can we help?
We Will Fix Your WordPress Bugs...
Each member of the Dax-Soft team has worked as a developer or hosting specialist for at least three years. We provide a variety of support, thus we occasionally delegate complex jobs to specialists. We can work on the majority of problems instantly (and constantly) until they are resolved because we provide round-the-clock support. We may connect a task to one team member to guarantee that person works on an issue or assign it to another team member if that team member completes their shift
Our Promise
Dax-Soft a task management system designed just for us, enables us to securely and effectively handle your requests. As soon as you sign up with us, we start monitoring your site and communicating with you via a secure chat thread. Our WordPress professionals will keep you informed if you engage them.
If you provide us with login credentials so that we can work on your website, those details are encrypted and only our staff has access to them while doing your task. When we're done, you can erase the data from our system and keep track of who accessed it.
We can also set up and arrange website backups, which we perform twice daily and check for any unanticipated file changes or potential security risks.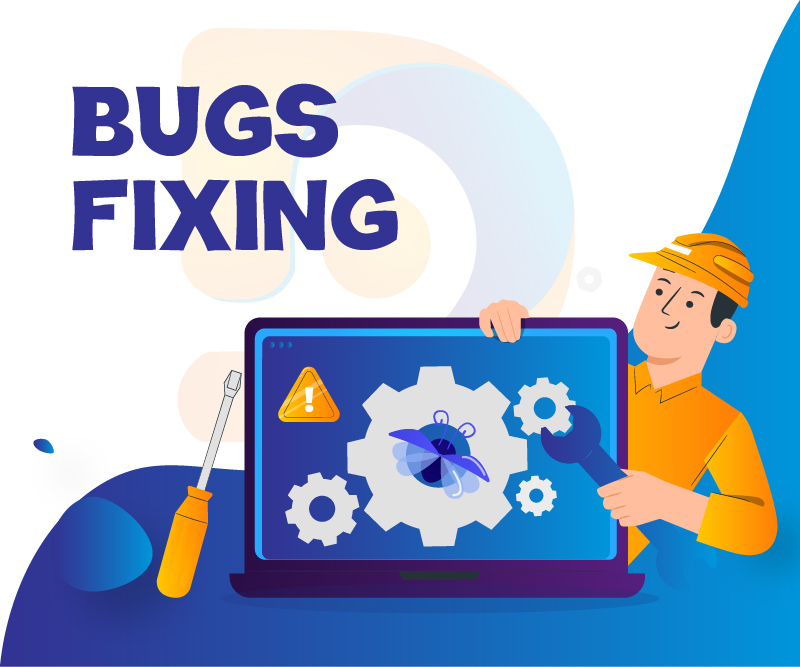 "Not really sure what to say. They are the best and honest. They handled everything requested in no time, was incredibly helpful and informative. Thank you!"
(John Buttler)

"They did what they said they will do. Finished my project and fixed errors. Price is good too. Their response time was very quick. Overall, fast responds and good service with low price. I recommend working with them."
(James Md)

"I have a website for personal training. I had a good website but gained some errors over time. I was really surprised how fast the completed the work. Thank you, Dax!"
(Robert Charles)

"Dax Soft is amazing. They always come through with great coding solutions, even when the project was very challenging. I like working with him. They are professional, knowledgeable and patient."
(Jeff Paul)

"I truly appreciate working with Dax Soft! I will definitely work with their in the future again! They efficiently managed to fix all my issues on a wp website in a very short time. I highly recommend working with them!"
(Richard)

"Dax Soft was a real pleasure to work with and easy to talk to. I would 100% recommend them and would be doing future projects with them for sure. Thank you very much Dax Soft for your help appreciate it."
(Steven kenneth)
WordPress bug, issues and errors
(we can fix for you)
Critical error
We are team of expert full stack custom plugin developers. From complete website creation to bug fixes we can do anything which is possible in WordPress. Our developers can add any custom functionalities in your existing themes, plugins which are not built-in or we can create a custom theme or plugin on demand of your need. We also provide malware removal and security services to keep your site always secure from hackers. Our experts can make your website load like a rocket by optimizing the code to keep it user-friendly. In all, there is not anything which we cannot do in WordPress.
Fatal error
WordPress fatal error means is that there must be script in your website which is not enabling your wordpress to open.
Database Establishing Error
On WordPress, the error "Error Establishing a Database Connection" is frequently seen. When the website declines to connect to the WordPress database, this error occurs.
A website will become inaccessible and lose visitors if it isn't maintained, harming its reputation in the process.
Server errors like ( 503, 403, 404)
These WordPress errors occur due to multiple reasons like server capacity full, change in permalinks structure or various kind of incompatibilities.
Blank screen or White Screen
Errors in the PHP code or reaching the memory limit nearly invariably result in the WordPress White Screen of Death. A bad theme or plugin could also be the reason. If your WordPress admin section is up but your website's front end is down, the latter is probably the problem.
WordPress form not sending emails
To figure out why WordPress isn't sending emails, you must first understand how it sends emails. WP mail is a PHP function that allows WordPress users to send emails. This feature routes and delivers messages using the website's web server.
When you are familiar with the procedure, it is simpler to identify the causes of WordPress's failure to send emails:

Unable to configure the server
records like dmarc, dmk, spf.
Emails go to spam
Poor sender reputation.
Host-related issues.
WordPress backend not logging in
You're in big danger if you can't log into your site's WordPress admin. You won't be able to edit your website or correct any mistakes. However, it can also indicate that a hacker has taken over your website and locked you out, which is worse.
But now that you know better, you may relax. We have assisted numerous clients in regaining access to their WordPress admin because this issue is fairly prevalent.
Woocommerce errors or functionality issues
We can help you in fixing items not adding to cart, any woocommerce issue or functionality that need custom code for creating features in existing theme or plugin.
Fix Header & Footer issue
If your header & footer is not working, showing we can help you to fix it instantly. For custom header & footer you can get custom quote.
How Does the Process of Fixing WordPress Bugs Work?
It's important to first diagnose what the issue is and then decide how it can be fixed. My WordPress bug fixing process usually works in the following way:
Step 1. We willl ask for admin access to your site (or a staging site) and we will diagnose and look for what's causing the issue to occur. If the issue is complex and the root cause can't be discovered in a short time period (up to 1 hour), then we may need to do a paid audit task first.
Step 2. Once I know the issue, I'll give you a fixed price and timeline to fix it.
Step 3. If we decide to work together, I'll fix the issue for you.
Step 4. (Optional) In some cases, we may need to first work on a staging (testing) server to fix the issue and test it there. If that's the case, after we test the fix on the staging website, I will migrate my work to the production website.
Fill this Form
(We'll Respond Within 5

mins

)